This plant attracts the following butterflies:
Brimstone, Common Blue, Clouded Yellow, Gatekeeper, Painted Lady, Peacock, Small Tortoiseshell, Small White
Memorable images of 2003: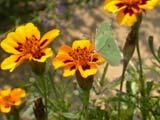 Brimstone. August 4.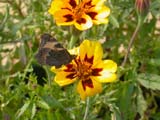 Small Tortoiseshell. August 4.
Past Image: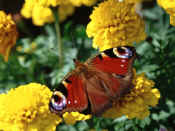 Peacock. August 2000. (No full size image.)
notes:
I have grown the variety 'Naughty Marietta' for the past few years, which is single-flowered and supposedly better for butterflies. However, I've noticed butterflies on the double-flowered varieties too.
There are basically 3 types of Marigold: African, French and Pot. I've seen butterflies on all 3 types and have a separate web page for Pot Marigold (Calendula species).
Slugs love the taste of French Marigolds so when you plant them outside, do check them and remove these creatures.
They are easy to grow from seed if you have available space indoors or in a greenhouse; each seed is relatively large and it's simple to sow them individually. I started growing some French Marigolds indoors on 15 March 2000 and I planted them outside in the middle of May. By the middle of June, they were flowering and continued to flower until I pulled the last of them out in early November 2000.
Reference Section
Plant Type: half-hardy annual
Flowers from June
Height: 15-60cm
Spread: 15-30cm
easy to grow from seed but can not go outside until all danger of frost has passed (end May/start June)
readily available as bedding plants from nurseries & market stalls in May
This page last updated April 18, 2004