I've just returned from a trip to Dorset where I'd gone to find a Lulworth Skipper butterfly. I think this is one: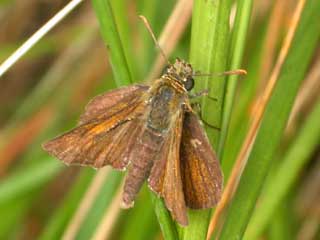 I saw this Skipper amongst the low vegetation on the coastal cliff edge. The Lulworth Skipper is found along the Dorset coastline to the west and east of Lulworth Cove.
I stopped at various places in Wiltshire and Dorset.
Meadow Brown
butterflies were out in force with a good number of
Marbled White
butterflies too. I saw
Gatekeeper
and
Ringlet
butterflies from the Satyridae (Brown) family and a number of Skippers too. It is difficult to tell the difference between
Small Skipper
and
Essex Skipper
butterflies. It depends on the colour of the underside of the antennae. I think this is an Essex Skipper: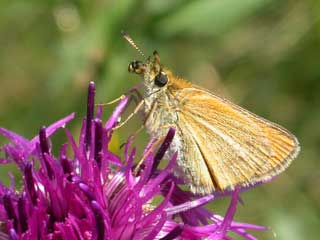 I saw several
Red Admiral
butterflies and a couple of
Comma
butterflies, some White ones including a
Green-veined White
butterfly but none of the blue butterflies at all.
One butterfly got my attention. I thought at the time that it was probably a Dark Green Fritillary and I tried to get some photos but it was very lively. Here are my not-up-to-the-usual-standard results: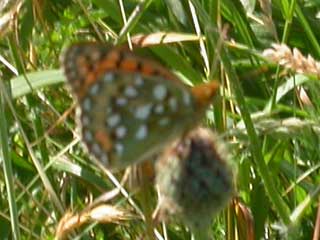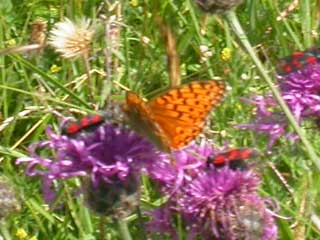 I've been wondering since whether it might have been a scarce High Brown Fritillary. It was flying around between four groups of knapweed plants & swooping down to annoy the Meadow Brown butterflies on their flowers. The day-flying six-spot burnet moths were outnumbering the butterflies on these plants and on the thistles.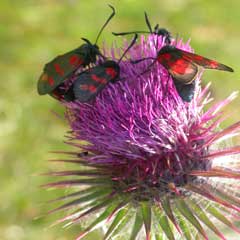 The nearest that I got to a butterfly yesterday was when a Skipper landed on the blue lid of my water bottle hanging from the strap of my camera bag on me; my camera was in the bag at the time so I didn't get the photo!
I looked over every flowering Buddleia bush that I passed in Wiltshire/Dorset without sign of any butterflies. When I got home, I found two
Small Tortoiseshell
butterflies on my plants.