This plant attracts the following butterflies:
Chalkhill Blue, Common Blue, Essex Skipper, Gatekeeper, Green-veined White, Meadow Brown, Painted Lady, Small Skipper, Small Tortoiseshell, Small White, Speckled Wood, White Letter Hairstreak
Memorable images of 2003: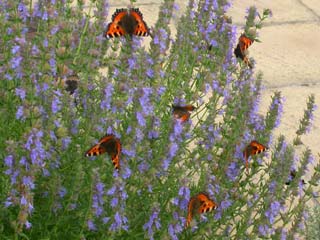 Small Tortoiseshells on Blue Hyssop. August 23.
This one plant in my front garden attracted 23 Small Tortoiseshells and 3 Small Whites together at one moment in time.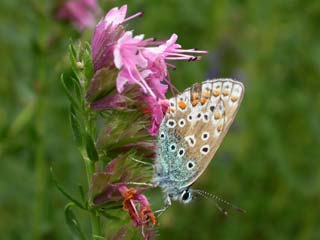 Common Blue on Pink Hyssop. August 19.
notes:
I bought 3 plants for my Wiltshire garden: blue, pink and white forms. I collected some seed from those plants before moving house.
I grew lots of hyssop plants from that seed in 2000. Some were the standard blue. Others were pink. But one particular plant produced flowers that were a lighter blue than the others. That plant is shown in the photograph above and I've given my friends some plants grown from cuttings taken from it. 26 butterflies on one small shrub is quite amazing.
Reference Section
Plant Type: hardy perennial shrub
Hyssop is a culinary herb.
Flowers in July and August
Height: 60cm
Spread: 90cm
Trim in the Spring to keep shaped.
This page last updated April 19, 2004