This plant attracts the following butterflies:
Meadow Brown, Small Tortoiseshell
Image: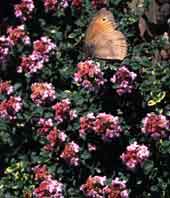 Meadow Brown. 28 June 2001.
notes:
There are a number of cultivated forms of Thyme. Wild Thyme is probably the one that the butterflies prefer.
Reference Section
Plant Type: hardy evergreen perennial shrub
Flowers in summer
Height: 30cm
Spread: 30-45cm
Trim after flowering. Replace every 2-3 years.
This page last updated April 18, 2004