This plant attracts the following butterflies:
A memorable image of 2002: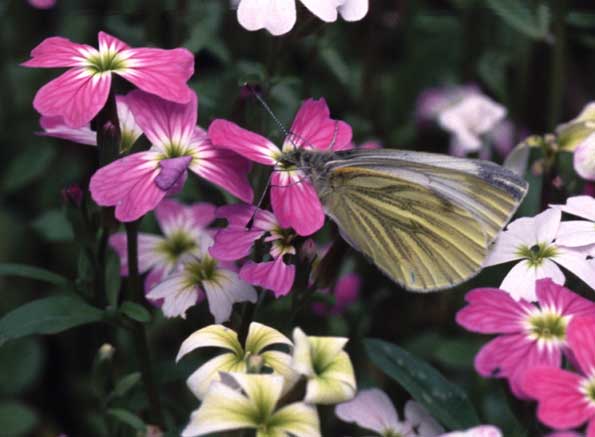 Green-veined White on Viriginian Stock. May 2002
notes:
This is very easy to grow - just sprinkle it on a bare patch of ground. I've found that it has self-seeded (with the result that it's flowering now as I write at the start of February and after we've had a recent snowfall).
I tried sowing every 2 weeks from March to May in 2002 which provided a good cover of flowers. I've followed a suggestion to mix some Night-scented Stock in with it too: the name is appropriate for Night-scented Stock.
I think that you need a good-sized patch of Virginian Stock for the butterflies to notice it. I also think it needs to be in full sun. I have a positive impression of Virginian Stock as a butterfly attracting plant from my Wiltshire garden but it's been less useful in Cirencester.
However, it's a good plant to fill in as ground cover until half-hardy annuals (e.g. French Marigolds, Helichrysum) take over.
Reference Section
Plant Type: Hardy Annual
Ideal for edging or filling in gaps in borders.
Successional sowings through spring and summer give continuous colour.
Will flower 4-5 weeks after sowing.
Sow in moist, raked soil from March to September.
Late sowings will flower the following spring.
Flowers in May-September
Height: 15cm (6in)
This page last updated April 18, 2004