This plant attracts the following butterflies:
Brown Argus, Gatekeeper, Small Tortoiseshell, Small White
Image of 2003: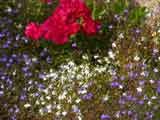 Typical use of Lobelia, blue and white forms, to edge a border. Seen in the village of Hindon, Wiltshire on August 15.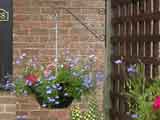 My hanging baskets containing Lobelia 'Cambridge Blue'. July 6.
notes:
Although I've seen butterflies on Lobelia, I've yet to record this event on film or using my digital camera. You can therefore deduce that Lobelia is not one of the major attractors of butterflies.
I have grown Lobelia from seed but I prefer to buy plants from nurseries and market stalls in late May when it is readily available.
Reference Section
Plant Type: tender perennial, usually grown as half-hardy annual
Flowers from June
Height: 10-15cm
Spread: 10-30cm
Comes in upright and trailing forms - good for hanging baskets
This page last updated April 18, 2004