This plant attracts the following butterflies:
Memorable images of 28 September 2003: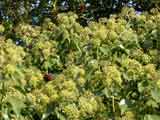 At rear of Regal Cinema (now closed), Cirencester.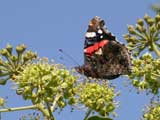 Red Admiral.
notes:
Ivy is a very important plant for butterflies. It provides nectar late in the season for the species that hibernate in adult form over the winter months. It's also the Autumn larval foodplant for the Holly Blue butterfly.