This plant attracts the following butterflies:
Brimstone, Large Skipper, Painted Lady, Small Tortoiseshell
Image:

Large Skipper on Sweet William. 18 June 2004
Further butterfly images: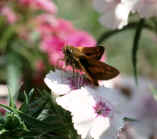 Large Skipper. June 2002.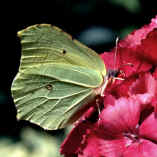 Brimstone. In my previous garden in Wiltshire. 1999.
notes:
Sweet Williams are particularly useful for attracting Large Skipper butterflies.
Although it's classed as a biennial (meaning that you sow the seed one year to flower in the next year), I have found that my plants have survived through the winters and continued to flower.