This plant attracts the following butterflies:
Peacock, Red Admiral, Small Copper
Images: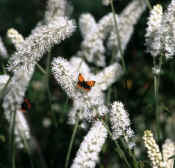 Small Copper on Bugbane.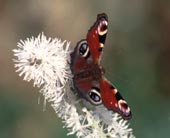 Peacock on Bugbane.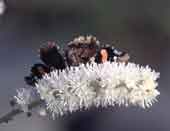 Red Admiral on Bugbane.
notes:
These photographs were taken at Cotehele (National Trust) in Cornwall at the end of October.
I bought a couple of Cimicifuga plants myself but mine have not survived.
Reference Section
Plant Type: perennial
Flowers in Autumn
Height: 1.5m
Spread: 60cm
Needs staking
Prefers light shade not full sun
This page last updated April 18, 2004