This plant attracts the following butterflies:
Green-veined White, Holly Blue
top memorable image: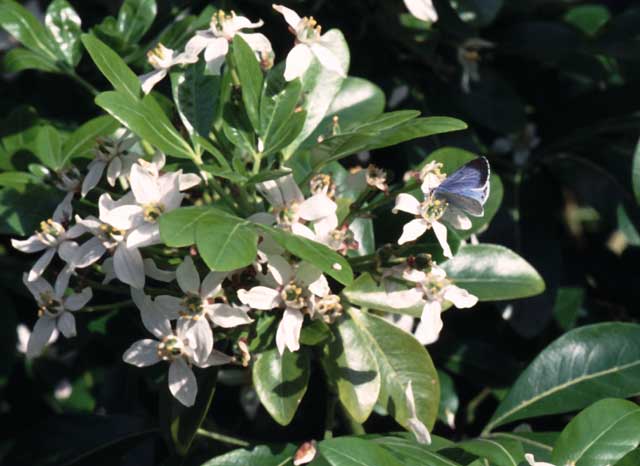 Female Holly Blue. May 2002.
notes:
This is a good plant for spring flying butterflies. The glossy green leaves are pleasant for humans to look at in the winter months too.
I inherited a Choisya ternata in the back garden here. It's probably about 13 years old now so a mature plant. Although my books say that it generally does not need pruning, I give it a tidy after flowering in the spring. When one branch was partially broken, I gave it a quite drastic prune and it quickly grew some new shoots.
I've found that this plant will deliver a second flush of flowers in the autumn too.
Reference Section
Plant Type: shrub
Evergreen. White scented flowers. Introduced from Mexico in the 19th century.
Flowers in May
Height: 1.5-2m (5-6ft)
Spread: 1.5-2m (5-6ft)
This page last updated April 19, 2004