This plant attracts the following butterflies:
Orange Tip, Peacock, Small Tortoiseshell
A memorable image: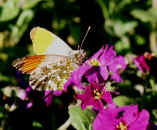 Orange Tip on Aubrieta.
notes:
Aubrieta attracted Orange Tip butterflies into my Wiltshire garden in both 1998 and 1999.
The first butterfly sighting of 2001 was of a Peacock on Aubrieta on April 15. I also photographed an Orange Tip on Aubrieta in the back garden on May 19.
My local blackbird decided that it would make good nest-building material in 2002 and sadly did serious damage to my plants.
A Small Tortoiseshell was feeding on an Aubrieta plant at the end of March 2004.
Reference Section
Plant Type: Hardy perennial.
Well-drained soil. Full sun. Ideal for rock gardens, dry banks and walls.
Flowers in Spring.
Height: 15-20cm
Spacing: 20cm apart.
This page last updated April 18, 2004