This is a garden measured in feet, not acres - about 60 feet wide at the back and roughly 30 feet deep.
The front of the house faces South-East; the back faces North-West.
Back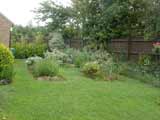 Looking West. 6 July 2003.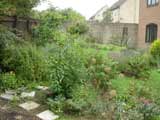 Looking East. 31 July 2003.
The back garden consists of a small area behind the garage and a wider area behind the house, backed by a fence. Behind is a track to a farm with a hedgerow of Blackthorn, Elm, Hawthorn, Elderberry and Bramble.
Front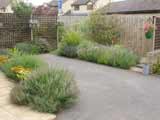 Looking East. 19 July 2003.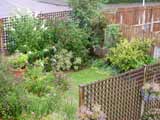 Looking down. 26 July 2003.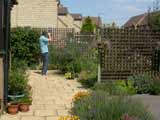 Looking along the front terrace. 2 August 2003.
Most of the plants that you see in these photographs were planted in 2000 when I moved to this house. The front is divided into two areas by trellis at the end of the drive. The drive is bordered by low-growing shrubs: Lavender, Hyssop, Hebe and Thyme. On the other side of that trellis divide is a small lawn, bounded by evergreen planting beside my neighbour's fence and Buddleias next to the road. There's a terrace of paving slabs in front of the house where butterflies like to bask.