Books in Print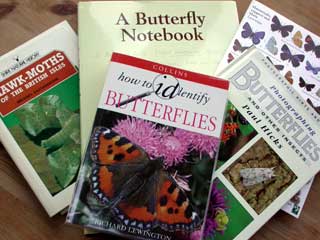 Guide to the Butterflies of Britain by John Bebbington & Richard Lewington, published by the Field Studies Council 1998
This is a folded laminated sheet. Folded measurements are 17.5 cm by 25 cm ( 7 x 10 inches). The unfolded spread of 58 cm length has Bebbington's text on one side and Lewington's illustrations of the 58 British species on the reverse.
How to identify Butterflies by Richard Lewington, published by HarperCollins 1999
I associate Richard Lewington's name with butterfly illustrations. This is not my first choice for identification: I prefer some of my secondhand books but they are generally out of print.
A Butterfly Notebook by Douglas Hammersley, published by the Book Guild 2003
This is a winter fireside book. It's a little larger than an A4 sheet of paper. The author has written about his experiences of watching butterflies for the past 20 years but it's the enlarged paintings by this retired medical artist that make this book special.
Photographing Butterflies and other Insects by Paul Hicks, published by Fountain Press 1997
This is the one book available on butterfly photography. Note that it's aimed at the film photographer, not a digital camera user.
Butterflies of the British Isles: The Lycaenidae by Michael Easterbrook, Shire Publications 1988
Butterflies of the British Isles: The Pieridae by Michael Easterbrook, Shire Publications 1989
Butterflies of the British Isles: The Nymphalidae by Michael Easterbrook, Shire Publications 1987
Hawk-moths of the British Isles by Michael Easterbrook, Shire Publications 1985
The Shire Nature series look at some of the family groups and include a book on Hawk-moths.
More books in print
The Millennium Atlas of Butterflies in Britain and Ireland by Jim Asher et al, published by Oxford University Press 2001
The Colour Identification Guide to the Caterpillars of the British Isles by Jim Porter, published by Viking 1997
Colour Identification Guide to Moths of the British Isles by Bernard Skinner & David Wilson, published by Viking 1998
Field Guide to the Butterflies and Other Insects of Britain, published by the Reader's Digest 2001
Photographic Guide to Butterflies of Britain and Europe by Tom Tolman, published by Oxford University Press 2001
Butterflies of Britain and Europe by Michael Chinery, published by Collins 1998
The Great British Butterfly Safari by Robin Page & John Paley, published by Merlin Unwin Books 2003
Butterflies of Britain and Europe by Tom Tolman & Richard Lewington, to be published by Collins MAY 2004
The Moths and Butterflies of Great Britain and Ireland, published by Harley Books 2002
Britain's Butterflies by David Tomlinson & Rob Still, published by WildGuides Ltd 2002
The Aurelian Legacy: British Butterflies and Their Collectors by Michael Salmon, published by Harley Books 2000
And one more book...
Gardening For Butterflies by Dr Margaret Vickery, published by The British Butterfly Conservation Society 1998
This booklet is available directly from the Butterfly Conservation Society. It gives details of 22 species of butterfly that may be expected to visit gardens plus details of plants to attract them.
Reference books - secondhand
I have collected some secondhand butterfly books. The following are ones that I find useful and recommend to you if you should find them (perhaps in a Secondhand bookshop...):
A complete pocket guide to British Butterflies by Margaret Brooks and Charles Knight, published by Jonathan Cape in paperback 1985
This is a pocket-sized book at 13 x 16.5 cm ( about 5 x 7 inches). There's a double page spread on each butterfly illustrated with photographs of the life cycle stages.
The Hamlyn Guide to Butterflies of the British Isles by J A Thomas, published by Hamlyn 1986
At the front of this book is a section on markings which makes this the best guide to identification, especially when distinguishing the Blues from one another.
Butterflies & Moths in Britain and Europe by David Carter, published by Pan Books in assoc. with The British Museum (Natural History) 1982
David Carter was a Lepidopterist at the British Museum. This book is full of photographs. Some show the butterfly in it's natural habitat but there are also helpful lifesize images of museum specimens. I find it useful for identification of the commoner moths and caterpillars.
The Butterfly Gardener by Miriam Rothschild & Clive Farrell, published by Michael Joseph 1983
I borrowed this book from my local library in the early 1990s and it started my interest in gardening for butterflies.
Butterflies on my Mind by Dulcie Gray, published by Angus & Robertson 1978
This is a collection of facts/history about british butterflies. Good winter reading.
Bright Wings of Summer by David G. Measures, published by Cassell 1976
This artist visited a local railway embankment & sketched butterfly behaviour.
Butterfly Watching by Paul Whalley, published by Severn House 1980
Is it a question about butterfly behaviour? This is where I look for the answer.
This page last updated April 14, 2004